Frames & Sunglasses
Optical Lenses
Kaenon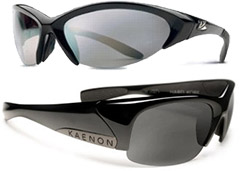 Kaenon was founded in 2001 by two brothers who were unsatisfied with the sunglasses available on the market. They developed Italian-made quality prescription and non-prescription sunglasses that feature a lens material that offers the clarity of glass and the impact resistance and safety of polycarbonate lenses.
Kaenon sunglasses come in lightweight sports and fashion styles with lenses that are available in a wide variety of Polaroid colors.
Kaenon continues to raise the bar in the optical industry and has introduced a variety of new prescription options, including Freestyle Progressive lenses, so that everyone can enjoy the Kaenon experience.
Intermountain Eye Clinic's large inventory of quality frames makes it easy to choose the perfect eyewear for the entire family. Let our trained professionals guide you toward the perfect pair of glasses for your lifestyle.
Sports • Sunwear • Readers • Occupational • Sizes for pediatrics, kids, tweens and adults